"Why didn't I think of that?"
This is the first thing that popped into my mind after seeing Hershey's recent HerShe campaign on Women's Day.

As content creators, many of us go through the same thing whenever a content marketing campaign goes viral. So it's only natural to be envious of the brands that get it right. 
Something else that's natural is — Striving to get your next content marketing campaign viral. 
But how can we achieve that?
The first step is to analyze and see the content marketing campaign that went viral and understand why it gained popularity. 
So, what are you waiting for? 
Onwards!
Check out these content marketing campaign examples and create an excellent strategy for your own.
Content marketing campaigns that won the audience's hearts!
1. Spotify Wrapped
Whenever someone talks about music apps, Spotify is the first thing that pops into my (and almost everyone's) mind. 
Why? Because the brand's exceptional content marketing strategy has thoroughly imprinted its image in users' minds.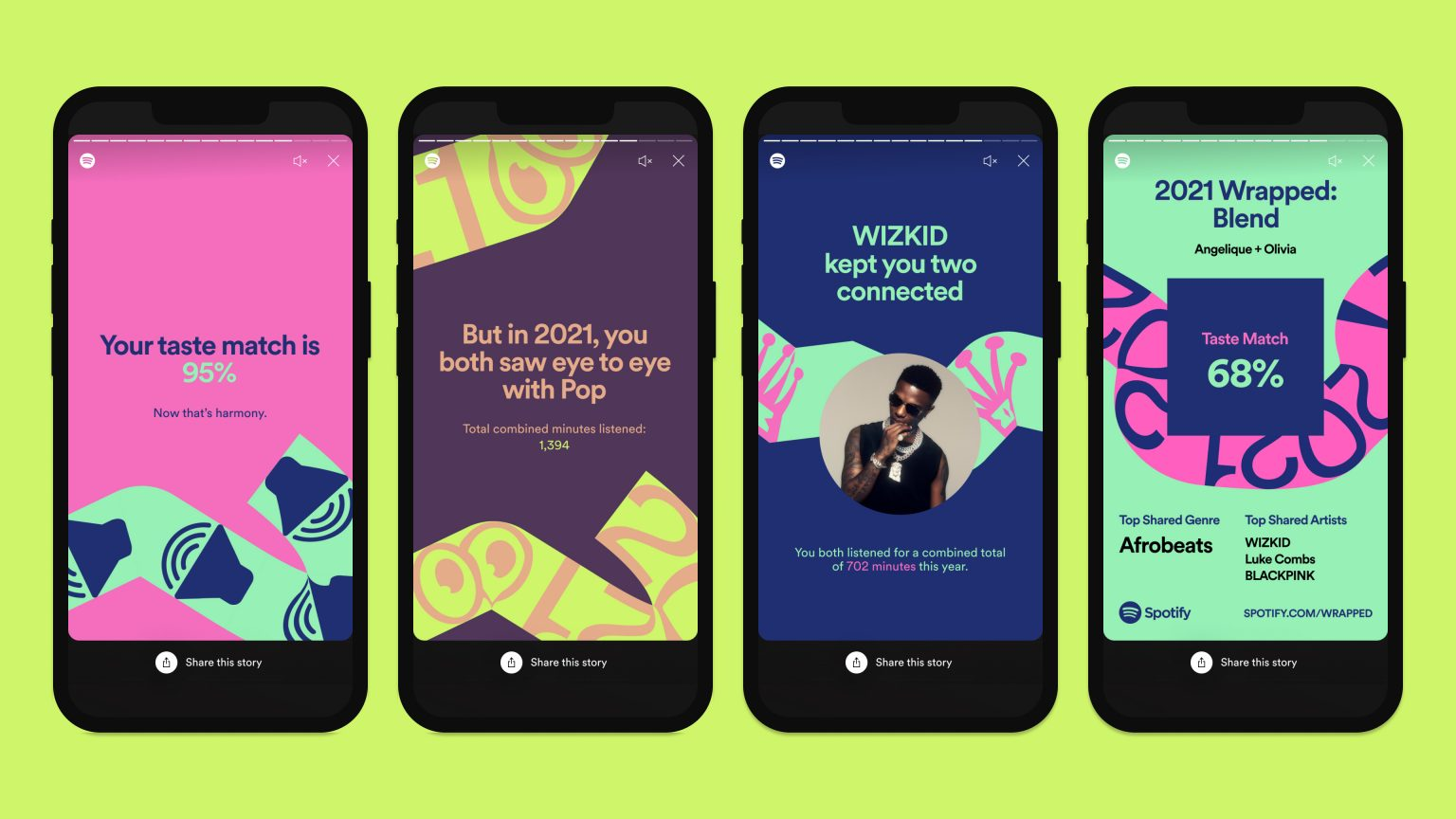 One of the most popular marketing campaigns by Spotify is — Spotify Wrapped. 
Every December, the brand creates multiple playlists of the songs most listened to by users. These playlists differ by artists, genre, year, etc. In addition, the campaign takes personalization to a whole new level by offering users customized playlists of their most liked songs.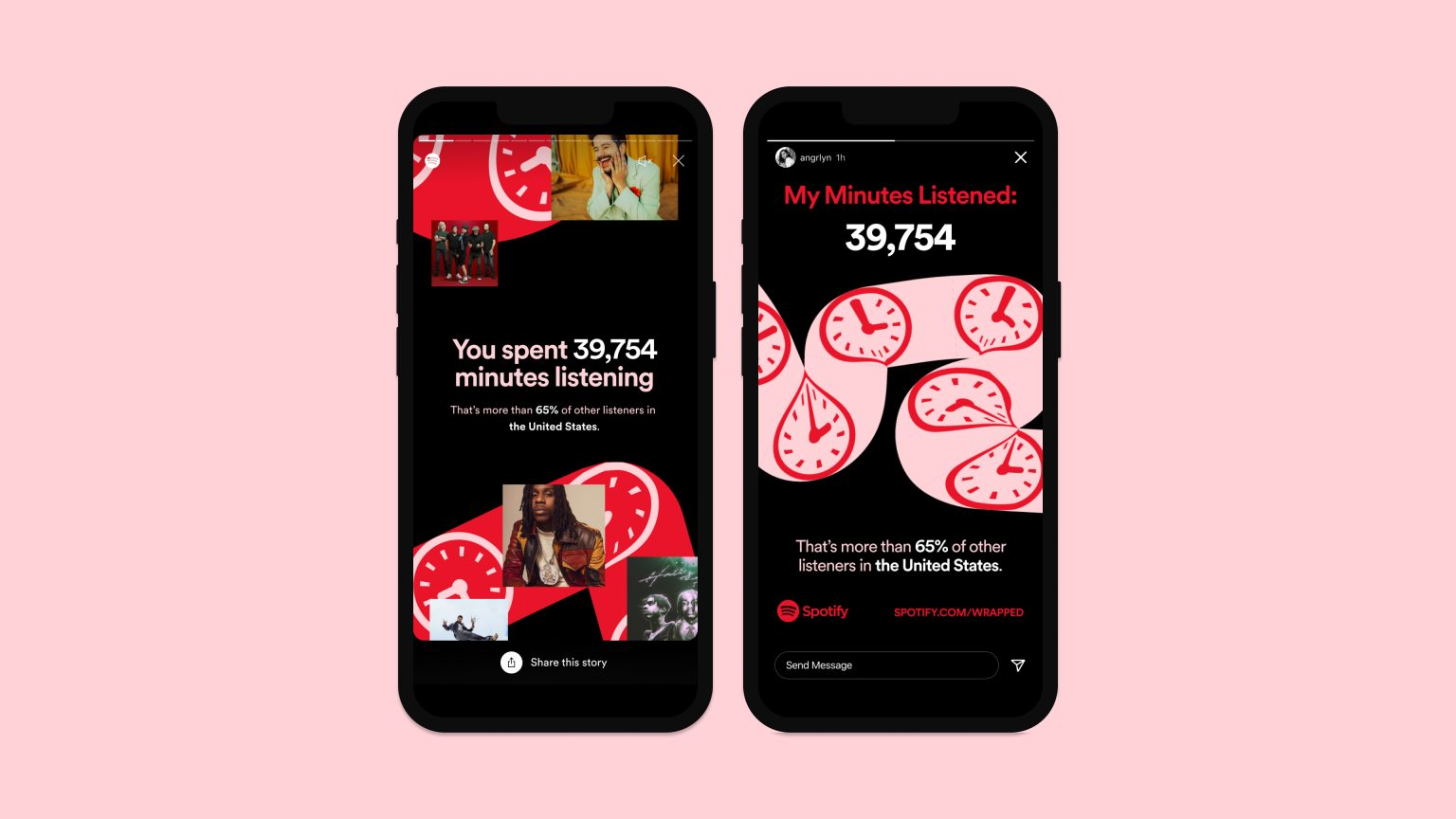 What's more, is that users can also share their Wrapped playlists on social media. Moreover, the playlist banners are made of bright colors and graphics, making them even more fantastic and shareable. 
The shareability feature of the playlist is a crucial aspect that helped the campaign gain popularity worldwide. 

2. Denny's restaurant
Many brands have used blogs as a content marketing approach to attract an audience. Denny's restaurant is one of them. But while other brands created sophisticated blogs that educate people, Denny's started a blog full of memes.
Yup, that's right.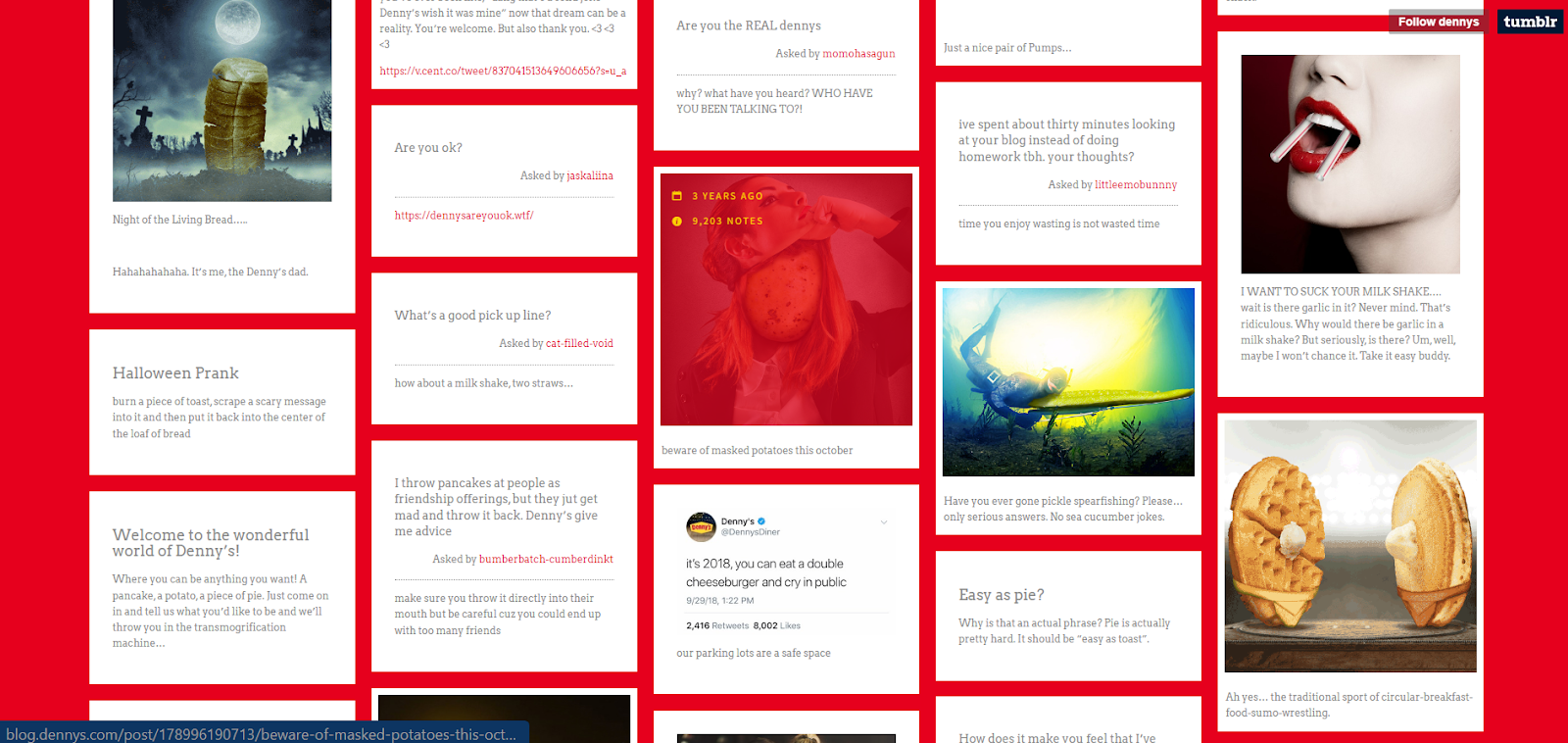 The restaurant recognized the popularity and people's interest in memes and decided to utilize the same. It created memes related to the brand or food in general and gained a lot of popularity among the younger generation. 
The restaurant's blog was launched on Tumblr around 2013, a popular social media channel during that time. Along with the blog, Denny's Twitter also delivers the same vibes. The restaurant's Twitter is also full of quirky, relatable, trendy, and engaging content. 
Furthermore, the brand has a different website, "the Grand Slam," featuring animated videos of the famous Grand Slam breakfast.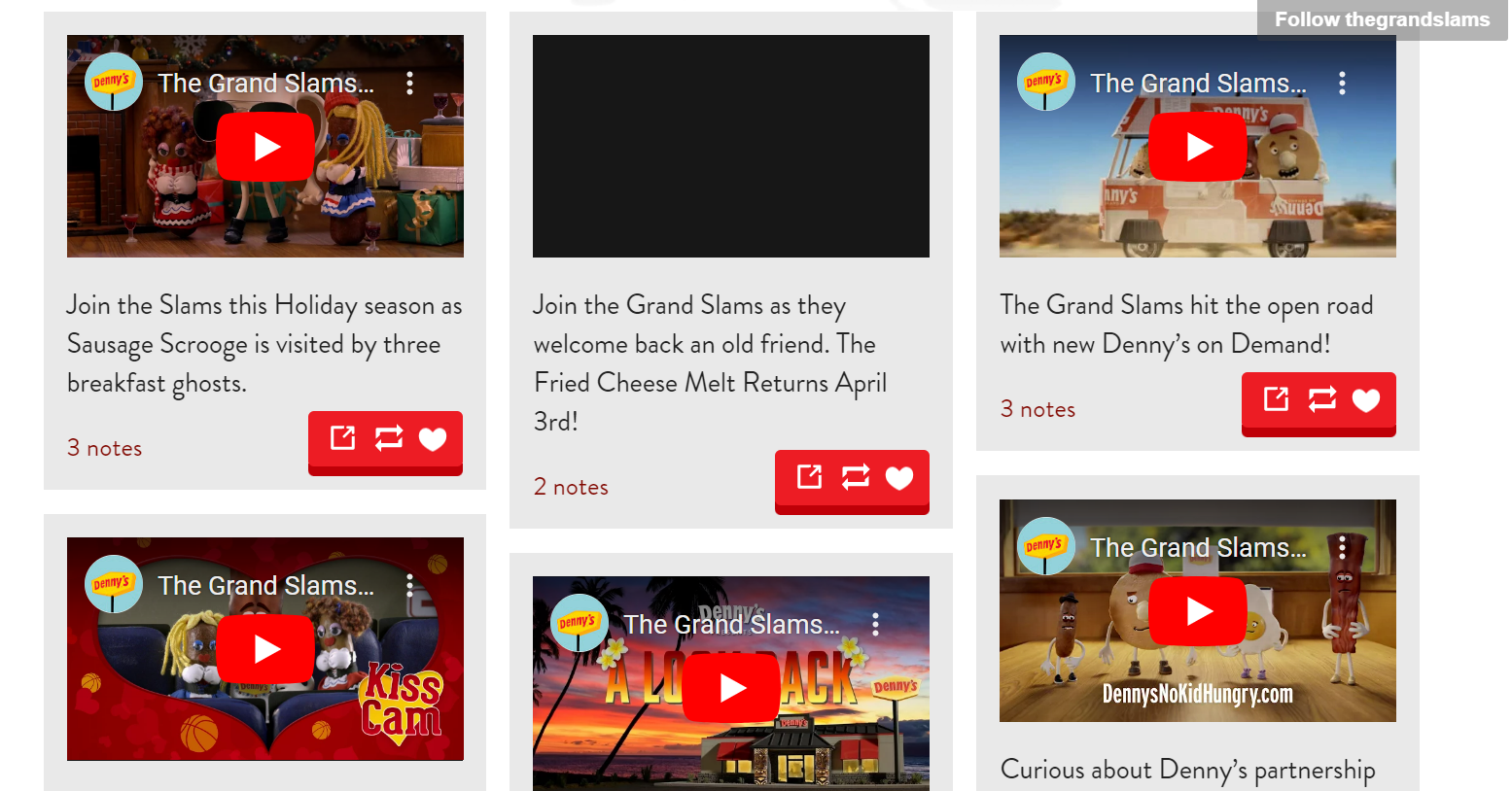 Image Credit – Denny's
After several years of bad press, Denny's gained back its customers by creating humorous, unique, relatable, and often bizarre content. Their strategy was extremely risky as Denny's was the brand that solely relied on humor for marketing. But the results were terrific. 
The content marketing campaign resulted in 150% fan growth and 1800+ engagement per post. In addition, its consistent content earned Denny's more than 900 million social impressions and 15 million engagements in just two years. 
3. Dove – Campaign for Real Beauty
We've all heard of Dove's Real Beauty campaign. The campaign was a huge success worldwide due to its emotional message. Through the Real Beauty campaign, Dove could connect emotionally with its target audience. 
The brand also fought against social stigma against the beauty standard placed on women through this campaign. Dove broke the stereotype by creating and marketing products for women of all ages, sizes, shapes, and colors.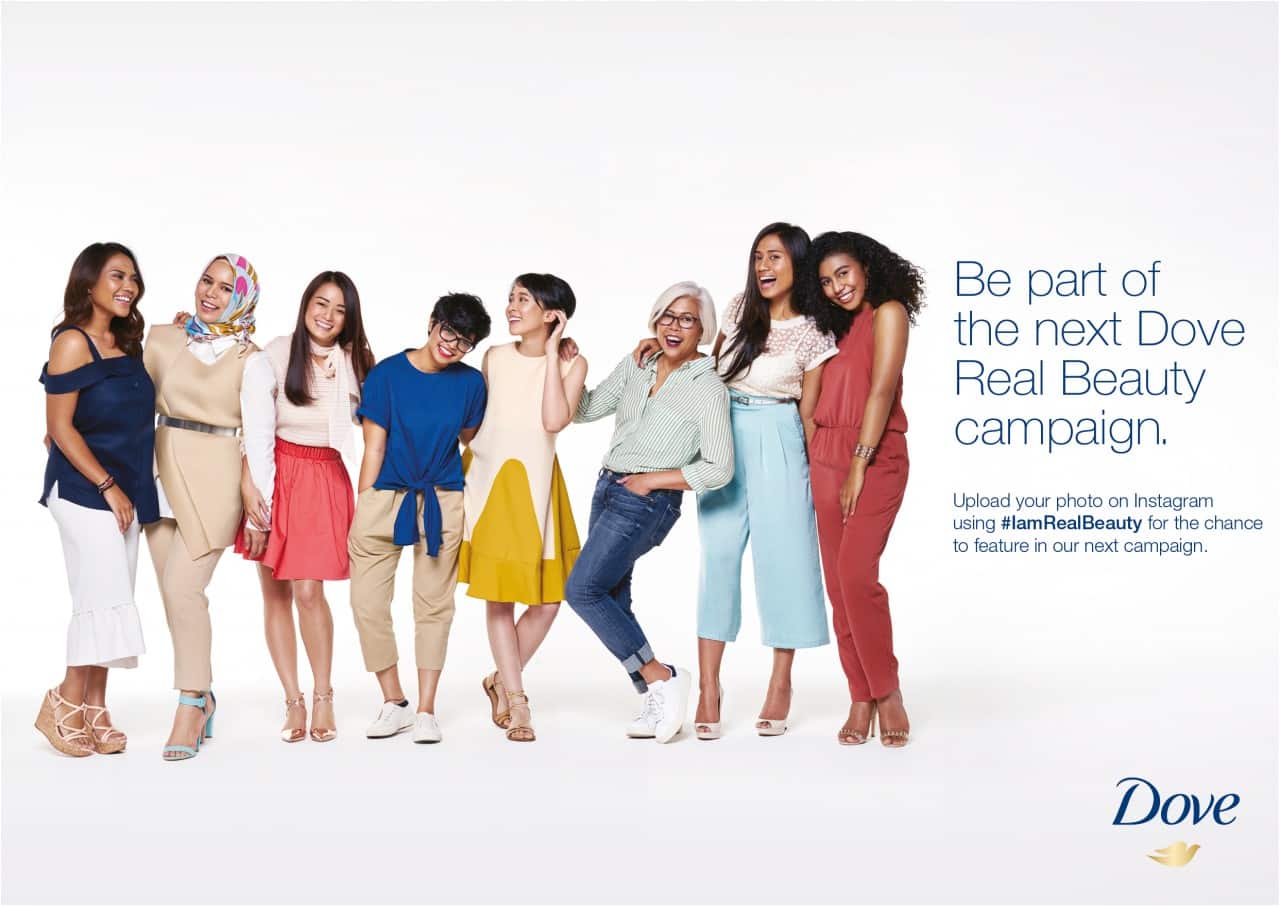 Unlike other brands, Dove didn't hesitate to hire actors of varying ethnicity, age, and size for its campaign either. By doing this, the brand was able to attract a wide amount of audience. 
Throughout the campaign, Dove consistently encouraged customers to share their photographs with the hashtags #mydovemessage and #iambeautifulbecause on the brand's social media channels. 
By doing this, Dove had a vast collection of user-generated content promoting its brand, cause, and products.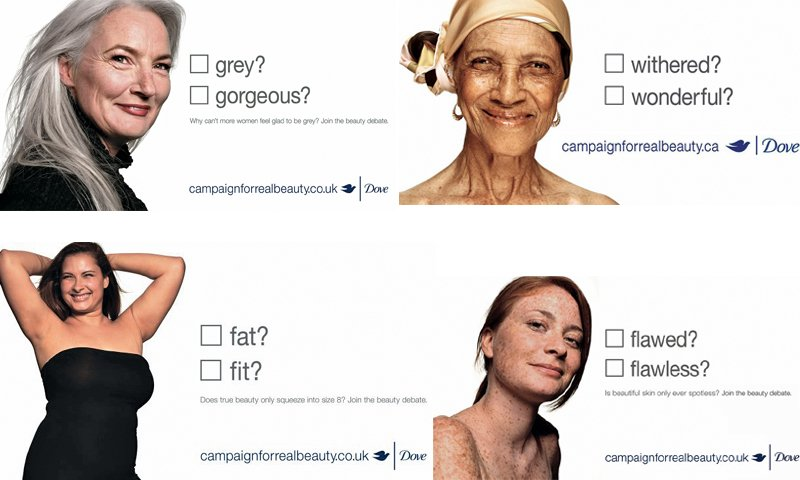 The response was exciting as many customers took to Twitter and Facebook to share their photographs. In addition, many celebrities also actively took part in the campaign.
Furthermore, during the campaign, Dove even created a separate section on its website — 'what real beauty looks like. And why you should care'. The page featured various photographs of customers sent to Dove over the years.  
The brand has stayed consistent with its messaging over the years and established itself as the home of real beauty! 
4. Old Spice – The man, your man, could smell like campaign
Old Spice is an age-old brand. But every brand loses its charm over time. The same was happening to Old Spice. But the brand's wits and quick thinking turned the tables for them. 
Old Spice was one of the first brands to introduce body wash for men. The brand was stepping into a market dominated by female customers with a product for men. 
But the product line wasn't seeing the expected results. This prompted the brand to conduct a market survey, which gave the following results —"60% of body wash purchases are done by women." 
Seeing such stats, anyone could have been discouraged from continuing the product. But Old Spice decided to use this data to its own advantage. By creating the "the man, your man could smell like" campaign, Old Spice targeted women who were not even the target customers. 
Old Spice | The Man Your Man Could Smell Like
The campaign prompted women to buy body wash for their significant others. Soon after its television launch, the campaign gained extreme media popularity. 
The campaign's objective was to increase body wash sales by 15%. But the end result was a 60% increase in sales of the Old Spice Red Zone Body Wash.

5. Coke – Share a Coke
When it comes to personalization, Coke's Share a Coke content marketing campaign takes the cake. 
Coca-Cola is among the market leaders in the soft drink industry and has a solid customer base. But its popularity increased even more after the Share a Coke campaign launch. First launched in Australia in 2012, the campaign resulted in the sale of more than 250 Million Coke products in the country in just three months. 
Later, the campaign was launched in 70 other countries and created a frenzy among customers. 
Why? Because Coca-Cola was selling customized cans and bottles of Coke. The brand printed out 150 most popular names in Australia (later, in other countries, too) in place of their logo. This made customers feel like the product was specially made for them. 
Along with that, Coca-Cola printed generic nouns like Mom, Dad, Bestie, etc. on the bottle. This urged customers to share a Coke with their parents or friends too. 
The brand also encouraged customers to participate in the digital campaign by offering custom virtual printed bottles for tagging five others with the hashtag #shareacokewith. 
Customers were excited about promoting the brand by sharing their own customized bottles on social media with the hashtag #shareacoke.  
6. Morning Brew – Newsletter
We've seen many brands make sensations with video marketing campaigns or social media marketing. But have you seen a brand from $3 million to $13 million in revenue in a single year from email marketing?
Yes, you read that right. 
Morning Brew' designed its email content marketing strategy so effectively that the brand has achieved great results with a single newsletter.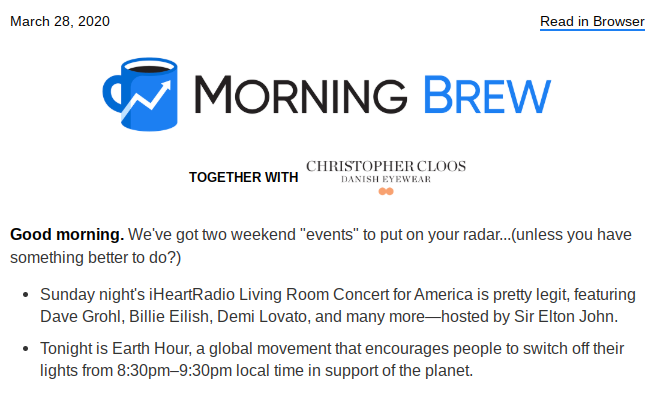 The newsletter, Robinhood Bites, currently has over 2 million subscribers. It focuses on the modern business leader and financial news. Typically, newsletters on similar topics can be pretty long. But Morning Brew showed the world that less is often better than more. 
"Everything we do is focused on the 3 E's: Educate, Entertain, Engage." Blake Solomon, Director, Branded Content at Morning Brew
The brand breaks down complex topics into small digestible content chunks in its newsletter. With the newsletters being consistent, engaging, and easily understandable, their popularity grew tremendously.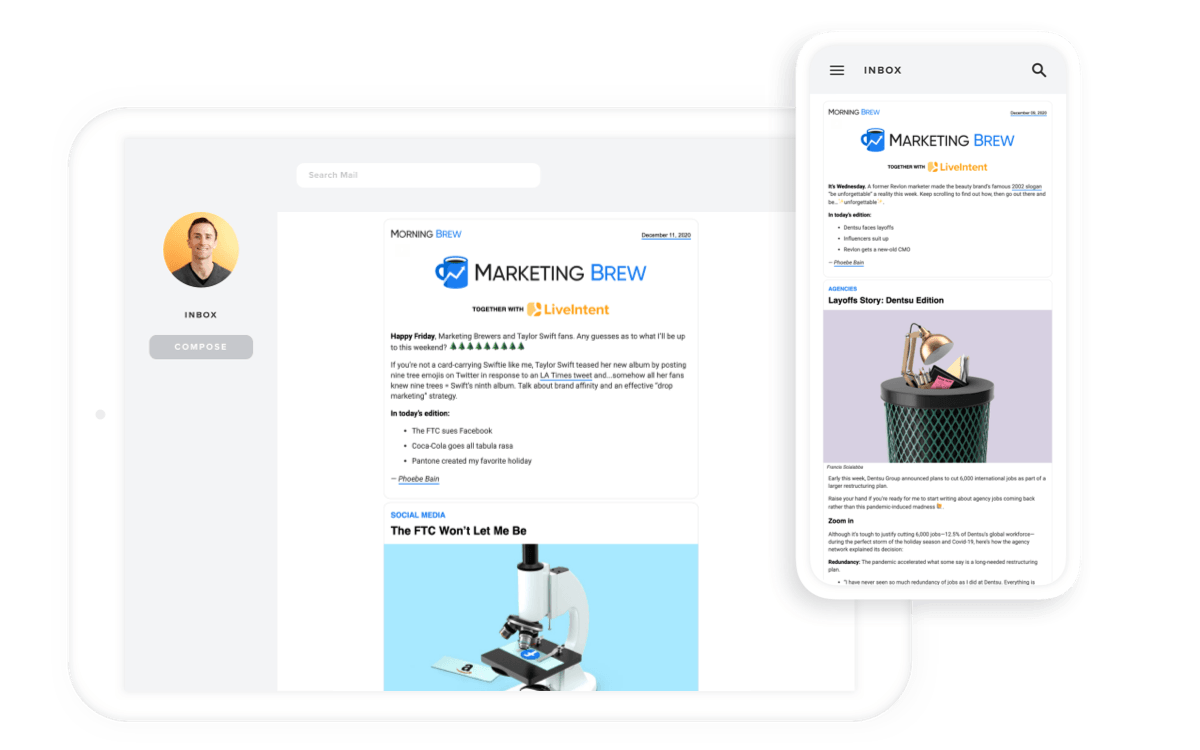 Morning Brew understood what the customers wanted and created content accordingly. For example, it includes trending topics in the newsletter that the customers want to read about, prompting word-of-mouth marketing. 
The brand also ensured to make the newsletters visually appealing to the audience. 
7. Apple – Shot on iPhone campaign
We've seen many brands utilize user-generated content on social media. But Apple took user-generated content marketing to a whole new level. 
In 2019, Apple introduced a new marketing campaign solely dependent on customers. The brand invited iPhone users to share photographs shot with their phones on social media with the hashtag #shotoniphone.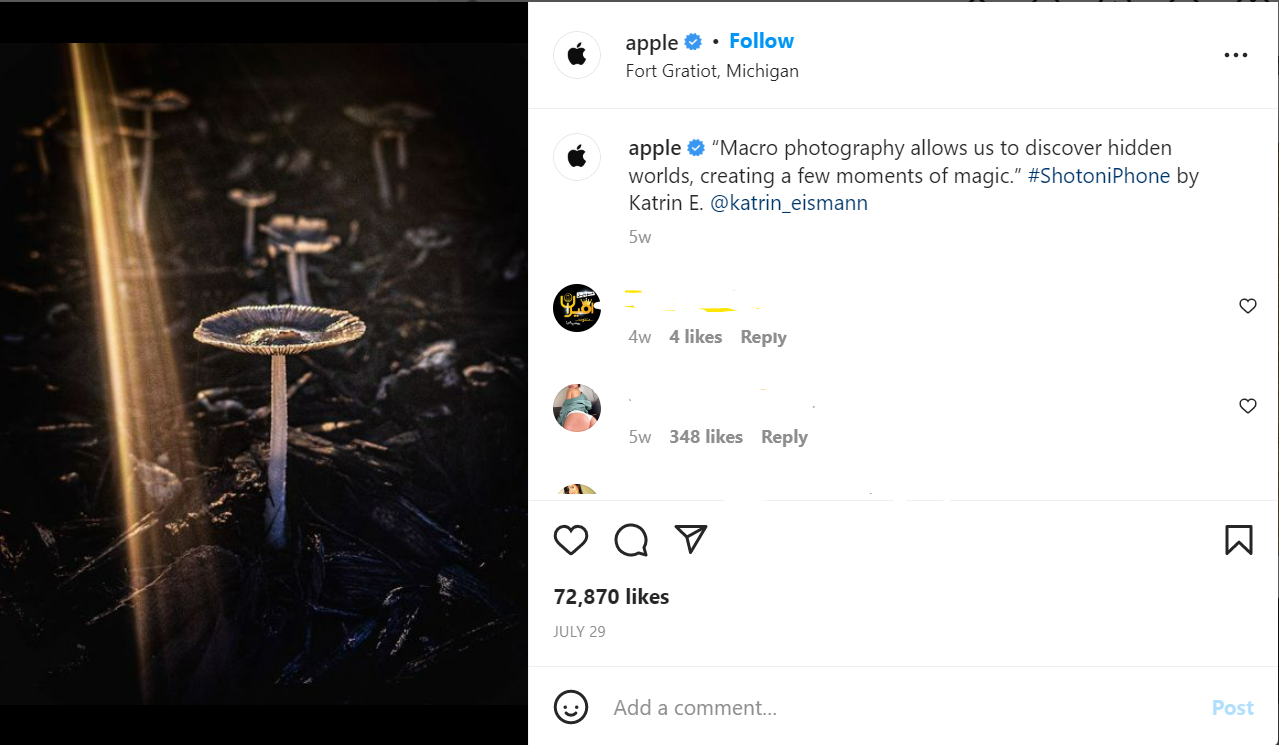 A team of professional photographers and Apple's team selected the best 10 photos and announced them as the winners. The prize was—the winning photos got featured in a gallery, billboards, Apple Newsroom, Apple's website, Apple's Instagram, and on official Apple accounts. 
The content marketing campaign quickly became a success as it gave users a chance to showcase their photography skills and get featured by Apple. 
More than 15 million users uploaded their photographs online. The majority of the photographs were of ordinary things and everyday life, but the creativity of the customers made them exceptional. 
The high-quality content Apple was receiving kept everyone anticipating to see the winners of the campaign. 
Due to the success of the original shot on iPhone campaign, Apple later launched several new versions to keep customers engaged. Some of the recent versions include Macro challenge and Night Mode. 
8. Zomato
Like Denny's, Zomato's content marketing strategy focuses on creating quirky and engaging content. 
The leading food delivery brand regularly incorporates recent trends in its marketing strategy. Another highlight that makes Zomato's content marketing strategy so great is its distribution across multiple channels. 
Zomato creates customer-centric and personalized content and reuses the same across each channel. In fact, the brand's notifications are also relevant, trendy, and customer-centric, not to forget extremely witty. 
Zomato interacts with customers across every channel, be it emails, social media, or the app. This constant interaction allows Zomato to imprint itself in the customers' minds.
In addition, Zomato understands the target audience and creates content they want to see. 
9. Hootsuite – Game of Social Thrones
Yes, you guessed it right! 
This Hootsuite content marketing campaign is based on Game of Thrones. The campaign video was launched after the fourth season of Game of Thrones. 
It was an exciting take on how Hootsuite unites all your social media platform. The animations, graphics, music, everything was top-notch. And everything was played extremely well by recreating the opening scene of GOT.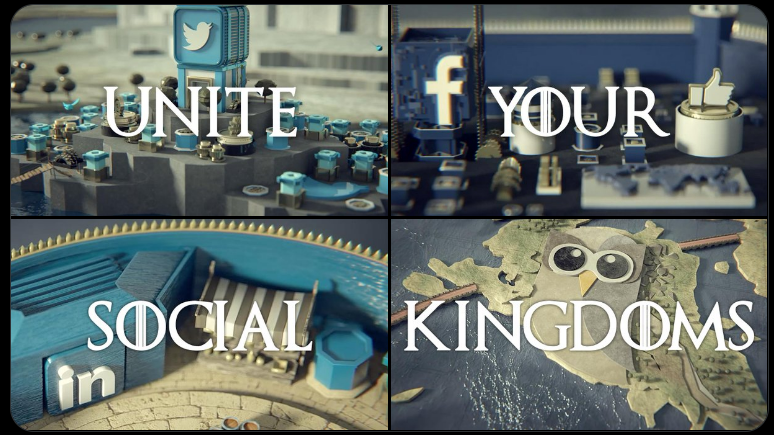 The brand was able to effectively convey its message and get people talking with the help of the video. And it was especially loved by Game of Thrones fans worldwide. 
Conclusion
So, here's the list of the best content marketing campaigns of all time. Of course, each of these campaigns had a uniqueness to itself that made it stand out. But there were many features that every campaign shared. 
Here are some things you should keep in mind if you want your next campaign to be successful –
Personalization is the key to every successful marketing effort.

Humor is risky but good.

Social media is not just for scrolling through memes; use it for your marketing campaigns.

Stay up to date with trends.

Your audience is busy; make your content short but effective.