Content Marketing is a fantastic way of building trust, brand awareness, leads, and nurturing prospects. It is the most effective form of marketing as it helps to hit all the primary business goals with higher effectiveness and lower costs. 
According to Demand Metrics, Content Marketing costs 62% less than any traditional form of marketing and generates three times more leads. 
But not everyone succeeds in Content Marketing. Are you also one amongst that crowd?
Don't worry; I am here to help you today.
The number one reason for failing in Content marketing is not having a documented Content Strategy.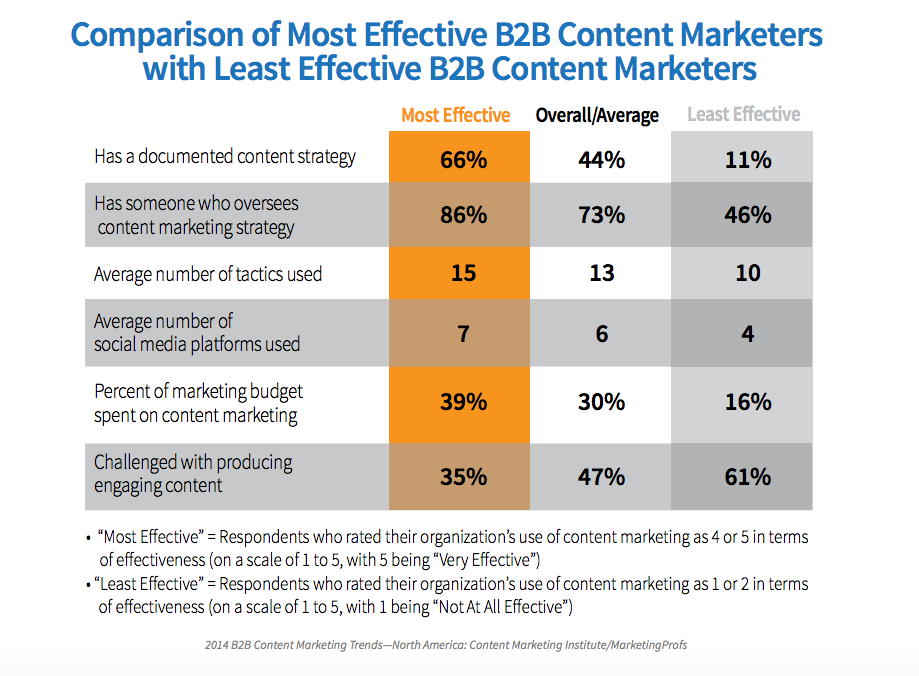 As you can see, the most influential brands have a documented content strategy. The lease ones don't have.
You would be surprised to know that only 63% of the business has a documented content strategy, which makes it pretty clear why most businesses fail in Content Marketing.
Do you have one? 
If not, don't worry; we will learn Step by Step to create a Content Marketing strategy for your business. 
But before that, let's understand the concept of Content marketing strategy.

Content Marketing is not only about creating and distributing content; it is much more than that. It is a strategic approach in which you define everything right from content creation to distribution and the target audience to business goals you want to accomplish. The strategic approach of doing things correctly creates the need for a Content Market strategy. 
What is Content Marketing Strategy? 
It is a strategic approach to creating and distributing content to a specific target audience to hit certainly defined goals. 
In simple words, your Content Marketing strategy is the answer to your Why, What, and How.
Before creating content, you need to know. 
Why are you creating it? 

For whom are you creating it? 

How will you create it? 
Your Content Strategy answers these questions in a detailed way. 
For example, If you are a fitness brand that sells fitness wear and accessories. 
Then, your why for creating content might be to drive traffic to your website and sell products.
How will it educate people?
What might be with the help of informative Videos and blogs? 
In a nutshell, you want to sell your products by creating educational content in videos and blog format to drive more business revenue to make people healthier.
To achieve the statement written above, every step you have to go through will be included in your content strategy.
From deciding your goals to determining your ideal customer and content format to who will be in charge of managing which work comes under content marketing strategy. 
In other words, it is a process of creating a structure for creating and distributing content suitable for your target audience to achieve your predefined business goals.
Why do you need a Content Marketing Strategy? 
Do you want to get success in Content Marketing?
If the answer is yes, your Content marketing strategy is your guarantee certificate. Having a documented marketing strategy can increase your odds of success by 313%. 
Here are the reasons you need a Content Marketing strategy for your business. 
To have a clear goal to achieve.

Defined KPIs to indicate success or failure

Understanding your ideal customer, their problems, and how our content will solve them.

The different channels to target

Different Content formats to create content. 

Responsibility for different tasks within teams 
Having a documented Content Marketing strategy is vital to have clarity and ensure the success of your content marketing campaign. 
Pillars of Content Marketing Strategy 
The strength of your Content Marketing strategy relies on five pillars. Before diving deep into the strategy, these pillars are the five basic questions you have to answer. Once you have these pillars clear, you have clarity for creating your Content Marketing strategy. 
What goals do you want to achieve through content marketing? It is imperative to have a clear understanding of your objectives.
It could be traffic, leads, traffic, or anything you wish essential for your business. Having a clear business goal helps you achieve it through your Content marketing strategy. 
Your reason for creating Content, the risk involved, and what your success will look like. These are some essential questions that need to be answered. 
Brand Positioning & Story – 
Once you have clarity of why you need Content marketing and what your success will look like. It's time to define your positioning in the market. 
Define your brand personality and tone. Having a clear brand personality and positioning will help you deliver a consistent experience to your customers. 
Add a personality to your brand, and make it appealing and personal to your customers. 
Figure out why customers prefer you over the competitors and what makes your brand unique. 
Your brand message needs to reflect your why, which eventually would give people a reason to listen to your story. The brand story makes you stand out in the market and different from your competitors. 
What value are people going to get from your content? If they are not getting something unique and valuable, you can't attract your target audience. 
In this noisy internet world, those who are helping people with precious resources have the attention of people. 
Your Idea Customer and their Journey
Define your ideal customer. What do they look like, what are their habits and problems, and what type of solutions are they looking for? 
We need to have clarity for the customer persona, for whom we are going to create the content, and how our content is going to serve them in different stages of their buying journey. 
Map out the ideal customer and their buying journey to create the content that helps in nurturing them in each stage of their buying journey.
It includes the process of creating content. How are you going to make content and deliver it to your customers?
Who will be responsible for what? What types of content formats will you create, and which channels to target your ideal customers?
How are you going to measure the results, and what would the success of your content marketing strategy look like?
Having a straightforward process helps you create the perfect content marketing strategy for your business. 
Now, as you have clarity on the pillar of a content marketing strategy, let's dive deep to follow the Step by Step Process of Creating a Content Marketing Strategy.
How to Create a Content Marketing Strategy (Step by Step) –
1. Establish your goals and KPIs 
Setting up your goals is the first step in making a stellar content marketing strategy that suits your business. Goals are like the lighthouse for ships that navigate and help you reach the harbor. But before Step 1, there is Step 0, which is writing down your mission statement. 
Your mission statement comprises three critical questions.
To whom you are helping, 

With what you are helping.

How are you helping?
Your mission statement constantly guides you throughout the journey to remain focused in one direction to achieve your business goals. 
So, the answer to your mission statements will help you to identify three essential elements of your content marketing strategy – 
Target Audience 

The content type and variety

The value they are getting.
Let's say you are a digital marketing Company; then Your missions statement would be –
"We help business owners to get more business through Digital Marketing Services." 
Another example can be, 
"We help Food lovers to find delicious recipes through high-quality food Vlogs."

Here is the Formula, 
We help (Target Audience) to get/ achieve ( Business goals)  with (Content-type). 
Now, let's get back to step 1, the business goals.
You need to set up SMART goals to achieve them through your content marketing strategy.
S = Smart
M = Measurable
A = Achievable
R = Realistic
T = Time bound 
Your SMART goals may look like this, 
Get more downloads on your Lead magnet.

Improve the ranking of your landing pages.

Make more leads and sales with improved traffic on the website.
KPIs – Key Performance Indicators
Now that you have set your goals, it's time to set the Indicators to measure the success or failures of the goals. These indicators are called KPIs (Key Performing indicators). 
Assigning KPIs will give specific numbers to your goals, making them measurable. 
Here are some examples to gain more clarity –
Get 100 downloads on your Lead magnet within the next 30 days. 

Improve the ranking of your landing pages to the first page of Google for a specific keyword.

Generate 1000 more leads with improved traffic on the website in the next three months. 
In the above examples getting downloads, improving SEO rank, and generating leads is the KPIs that show the success or failure of the Content Marketing strategy.
Your KPIs can be, 
Ebook Downloads

Visits on the Landing page 

Search Traffic on the Website

Social shares of articles 

Email Subscribers
All of them can be your KPIs, but they need to be specific. 
2. Create your Buyer Persona
Determining your audience is a crucial part of Content Marketing. You are not creating content for everyone but for a specific set of audiences with a specific problem to whom you want to reach out to solve their problem.  
Before writing down a single piece of content, know who you are writing for. Understanding their challenges, problems, lifestyles, and habits is important to creating a content marketing strategy.
But the question is how to identify your target audience? 
Here are some of the ways you can use to identify your audience – 
If you already have some tractions on your website, you can use Google Analytics to identify your audience.
You can open your Google Analytics account, add your existing website, and in the Audience section, select interests and then choose Overview. This will give you a brief about your current website visitors' interests and behavior. 
 Google Analytics » Audience » Interests » Overview. 
You can also collect demographic data such as Age, Country, Gender, etc., about your visitors. 
You can also use the analytics of your current social media accounts to understand the audience.
Facebook – You can directly write facebook.com/ads/audience-insights to know the demographics of your existing audience. 
Open your Facebook page << Choose Insight options on the right-hand side << Select overview. 
Instagram – The same is the case with Instagram; you can choose to overview your audience insights and gain the demographic data of your audience. 

Talk to your existing audience-
You can study your existing customers to understand your potential customers and target audience.
Other than collecting the basic demographic insights, ask them about their –
Pain Points

Favorite Content Formats

Thoughts on your existing content

Channels they use to consumer Content

Content Priorities 
Once you have analyzed all the above steps, you can start creating your Buyer's Persona, which is an imaginary avatar of your target audience or ideal customer.
It will include their, 
Age

Place

Education

Gender

Behaviors

Channels

Pain points

Gender

Yearly Income 
And you can go in as much detail as possible to have a clear understanding of your Target audience. 
Believe me, having a Buyer's person for your ideal customer is one of the most essential steps in your business. It will not only help you in creating content strategy but will also be useful in- 
Running Marketing Campaigns

Choosing Platforms for Marketing

Running Paid Campaigns
3. Analyze your Current Content 
(You can directly skip this step if you don't have any content in place)
There are high chances that you already have some kind of content assets in place. They may be blogs, videos, case studies, or anything. For example, till now, we already have our Goals, KPIs, and Customer Person in place. The next thing is synchronizing our existing content as per our readers and potential customer needs. 
Before directly jumping onto the content production and other steps, let's first optimize what we already have. For that, we need to run a Content audit. 
Don't worry, you don't have to do it manually. There are tools to do it for you. A content audit will help you to find out the – 
Broken Links

Well performing articles 

Missing keywords

Analyze Headlines 

Find Duplicate pages
Tools to run your Content Audit – 
Screaming Frog-


It will analyze your content and-
Create a Sitemap of your Content

List your URLs

Find out the Duplicate pages

Analyze the page titles and meta descriptions
SemRush Content Audit tool


It will analyze all your blogs to Check- 

Length of Articles

Headlines and meta Descriptions

Keyword Utilization 

Backlinks 

Shareability of the Content 
You can use the Ahrefs Audit tool to- 
Find the Content Gaps

Missing keywords

Queries of your Target Audience
4. Find out the Content Channels
Before jumping into the process of creating content you need to know about the channels for which you want to create content. 
Having clarity of the content will help us to figure out the content types we want to use, as each channel has a different content format. 
But how to figure out the best content channels? 
There are two ways –
Google Analytics

– If you already have some content and traction on your website, Google Analytics is the best tool to figure out the best content channel for you. 
In Google Analytics, go to
Acquisition » Social » Overview. 
It will show you what percentage of people are coming to your website from which channel. As you can also see in the image below, it separately shows the contribution of each channel to your website traffic. 
2. Pondering over your Target Audience  – You already know your target audience, analyze them and perform some research to find out the channels they use to consume content.
For example – If you are in the fitness and food-related business -> Instagram, Youtube, and Facebook can be the best channels. While if you are into the B2B space -> Linkedin and Twitter can be the best channels for you.
You can use the data available on the internet to do primary research and find out the best channels for you. 
5. Decide the Content formats-
Now you have Content channels, it's time to decide on the Content types and formats. 
A good content marketing strategy comprises a variety of content formats. Usually, every content marketing strategy has a core content format. The core content is repurposed on different channels to bring traffic to the core content. 
In most cases, the core content format is the blogs, which makes the most crucial element of the content marketing strategy. 
Video content has recently become a very popular content format. It has the highest engagements. The popularity of video marketing is the highest ever, the simple reason is the ease of consumption. 
Infographics are also a very popular content format, especially in the B2B industry. You can use tools like Canva to create stellar infographics. 
The best part of creating infographics is that you get a ton of backlinks, which helps a lot in SEO.   
Podcasts are also becoming a popular content format that helps you build authority and credibility in your niche. Podcasts are the future content format, you are missing it in your content strategy, and you are missing a lot. 
To figure out various content formats best suited for the content marketing strategy, we need to study a bit about the buyer's journey.


Buyer's Journey – 
From being an unknown visitor to becoming an advocate of your product or service a buyer usually goes through three major stages in their buying journey. 
Awareness << Consideration << Decision. 
In each stage, the visitor consumes different types of content, which helps them to shift smoothly to the next stage and finally become a loyal customer.  That's why you need different content for different stages in the buying journey of the customer.
Awareness phase – the Customer gets aware of their Pain points or problems. 
Consideration phase – the customer gets aware of the solution to their problem.
Decision phase – the customer gets to choose the solution provider best suited for them.
 Content formats for each stage in the buyer's journey – 
Awareness stage

– Videos, blogs, Social media posts, Infographics, etc 

Consideration stage –

Newsletter, events, Whitepapers, Webinars, etc 

Decision Stage

– Case studies, Testimonials, Demos, etc. 
Having a good idea about your customer's buying journey will help you to figure out the best content formats and channels to target. 
6. Create a Content Calendar 
Now, you have content formats, channels, and topics. It's important to organize everything, that's where the role of the content calendar comes into play.

Content Calendar helps you remain organized and never miss any important dates while helping in scheduling the content for different platforms. 
You can use something as simple as Google Calendar as your content calendar to remain organized.  
A Content Calendar will have details of – 
The channel for posting

Content Format 

Content topic

Date & Time of Posting 

 Personal Responsible for the scheduling 
Having all this information in one place makes the execution of the content marketing strategy super easy. 
Now, the question is what are topics to choose for content production? To find that out you need to do thorough content research.
Content Research 
There are many Content research tools to find out the content topics in your niche.
Here are some of the tools –
It is an amazing free tool, which helps you to find out what people in your niche are looking for. Answer the Public lists down all the questions people are asking online.
These questions can be categorized and used as a content topic, to start creating content relevant to your audience.
Just Google the keywords or services you provide. The articles google brings in front of you are the content topics for you. 
Related search results is a Goldmine. These Are the things people are searching for, in your niche. You can target these topics. 
Q&A platforms are Quora & Reddit 
These are the platforms where people are asking questions, and openly talking about their problems and pain points. 
You can discover the right questions and topics to start creating content. 
Reverse engineer your competitor's content strategy. You can easily do this by analyzing your competitor's website in any SEO tool.
Let's use Ubersuggest.

Now, as you can see, it will break out the topics bringing traffic to your competitor's topic. You can target these evergreen topics.
It will also help you to find out the keywords in your niche, strategically find out the keywords you want to target, and start creating stellar content. 
7. Designate responsibilities and resources 
By now,  you have figured out the content topics, formats, and channels. Going forward here is the question that comes our way to execute the content marketing strategy that we have created till now – 
Who will be responsible for what

How the workflow will look like

What are the essential tools needed
Let's answer these questions one by one-
Who will be Responsible for what?
It depends a lot on the size of the team, designating the responsibilities of content production is a major task that needs to be sorted. 
The hierarchy of Responsibility may look like this – 
On the top is the Chief Marketing Officer, who will be responsible for the overall content strategy and approval for things.

In the middle of the hierarchy is the Content Marketing Manager, who will be in direct touch with the CMO. He or she will be managing the team of content writers, graphic designers, and video editors. Assigning the tasks to the individuals and reporting to the CMO will be their major responsibility. 

At the bottom of the Hierarchy would be the people responsible for erecting the tasks such as content writers, video editors, and graphic designers. 



What are the tools and resources needed?

There can be multiple tools needed depending upon the strategy, you might need the following tools- 
Content scheduling 

Keywords research 

Content Audit

Design and editing specific tools

Plagiarism and Grammar tools
Along with it, you need to look into the available resources. Make a list of the tasks you are outsourcing and those you are doing with the in-house team. 
For outsourcing purposes, you can either hire freelancers or hire an individual agency to perform required tasks. 
How will the workflow be? 
Next comes the workflow. Create a documented workflow for each of the tasks that need to be done.
For instance, for writing a blog, what are the steps that needed to be followed, documenting it. 
In this case, the steps make include – 
Getting the keywords from the SEO manager

Researching on 5-6 related articles

Create a stellar heading for the article

Articulate the body of the article 

Start writing it. 

Make sure to include stats, images, and infographics

Share it with the editor
8. Distribute 
Content marketing is less about content production and more about content distribution. 
Now, to understand the concept of content distribution, first, we need to understand the three types of media distribution channels. 
Owned media –

It is the content channels we own. They are independent of anyone and are the direct communication channel between your audience and brand. The prime objective of content marketing is to build your own media channels. 
Examples of owned media channels are blogs, videos, and emails. The traffic and eyeballs are organic. 
Earned Media

– Social Media channels fall in this category. The Social Shares, mentions and Coverage are earned media, which your brand has earned through its impactful content. This channel of communication is social and therefore depends a lot on the platform. 
Paid Media

– All types of Ads fall into this category. Social media ads, Search Engine Ads, and Display ads, fall in this category. 
Now, you need to identify the most effective channels for your content. To minimize the efforts and use all the major distribution channels effectively you need to understand the concept of Content Repurposing.


Content Repurposing –   Using a single format of content and reusing it. You can create pillar content, let's say a blog or video, and then can reuse it in different formats on different channels.

A single long video can be converted into a 
Podcast for iTunes and Spotify 

Infographics for Instagram and Pinterest

Reels for Tiktok and Instagram 

Short video clips for Facebook, and Linkedin

A blog 

Linkedin posts

Email
And whatnot? 
That's how you can create a variety of content formats from a single pillar content and bring all the audience from these channels to the pillar content. That's how content distribution and content repurposing work hand in hand.   
9. Analyze and Improve 
It's time to check how your content is performing. So far we have created content and distributed it, and now is the time to analyze their performance. 
The KPIs we have decided on in Step1 will come into play. 
Usually, the content metrics fall into four major categories 
User Interaction

– Sessions, Bounce rate, Unique visitors.

Engagement

– Shares, Likes, Comments

SEO results

– Ranking on Google, backlinks, organic traffic 

Company revenue

– Leads, Downloads, Conversion rates. 
Analyze the performance of your content in these 4 categories and figure out the KPIs also. 
Use Google Analytics, Buzzsumo, or Uber to check the performance of your content. Is your content hitting your goals or not?
What can be improvised to make your content marketing strategy more effective? 
Conclusion

The technique of delivering content to customers changes regularly. But the base of content marketing always remains the same —delivering useful, credible, and engaging content. 
Until and unless your content is providing value to the audience, they won't turn into customers. 
And how can you deliver such content? 
With a carefully crafted content marketing strategy. 
So remember this blog when you create your next content marketing strategy to successfully attract and retain customers.