Check your app usage and tell me which app you spent most of your time on? 
If you don't lie, the probable answers may be –
Youtube

Instagram

Facebook

Netflix
Isn't it?
Even if you break down the content consumption on these platforms, videos will be a clear winner.
As consumers, we all love videos. 
In the last two years, the metric of video consumption has crossed the universe. All thanks to the Lockdown restrictions. 
Brands are leveraging this video marketing trend because that's what customers want. 
A report by Hubspot says that 50% of consumers want to see video content more than any other format from their favorite brands.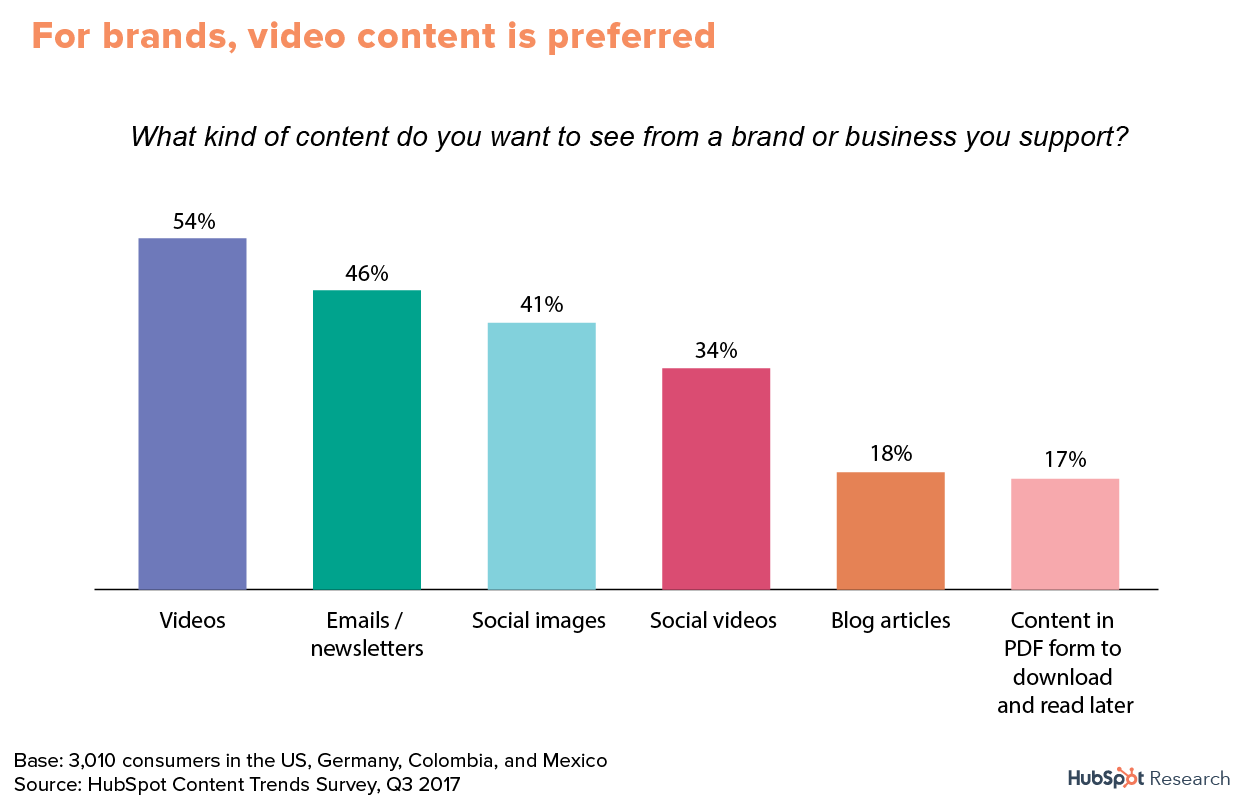 Using different videos in your marketing strategy can boost conversions, sales, and traffic. 
As a result of these spectacular numbers, businesses using video as a marketing tool have increased by 41% since 2016.
Let's understand the importance of videos for businesses with a few examples. 
Brands That Adopted Video Marketing To Grow
What's your excuse for not using videos in your marketing strategy? 
Noob Marketers – "Umm.. Maybe Video doesn't work in my industry and product." 
Okay! That's a fair point.
Did you know the legend of marketing, Tesla, has a Youtube Channel? 
But they are into making Cars; why do they need a Youtube Channel? Think about it! 
The answer is Video Marketing. 
The reason why you love Tesla is because of their marketing strategies, of which videos are an integral part. 
Let's take another example — Why would a brand selling blender need a Youtube channel? 
Let me tell you; we are talking about the "Will it Blend" marketing campaign by Tom Dickson of Blendtec. In a series of videos started on his Youtube channel, Blendtec founder Tom blends different items right from Marble to iPhone and becomes a viral sensation. 
This marketing campaign became the biggest hit of 2007 and is still an example of the power of using videos in your marketing. This campaign helped the brand to shoot its sales by an astonishing 700%.  
If you think your product doesn't fit in video marketing, think again! 
Video Marketing Funnel
The Video Marketing funnel is similar to any other marketing funnel. However, to leverage the power of marketing videos, you need to create videos for each stage of the funnel. 
Each video in the funnel has a different purpose and helps your potential customer move to the next level of the funnel. From getting to know your brand for the time (Awareness) to turning them into your customer (Decision), videos are used tactically.

9 Types of Marketing Videos that Boost Growth
I am segmenting the types of videos based on the customer journey stages. It will make it easier to implement them while making your video marketing strategy. 
Top of the Funnel (TOFU) 
At this stage of the funnel, your potential customers hardly know you. They have little or no information about your brand, what you do, and how you can help them. Therefore it is the chance to get in front of them and make a good first impression.
You can help your potential customers solve a problem through your videos. They may be searching for some information or a specific problem. Educate and add value to their life and business. 
Marketing videos at the top of the funnel are usually educational and informative. So let's jump into the marketing video types typically used to attract the traffic and visitors at the top of your marketing funnel. 
1. Educational Videos 
Four years back, when I was learning about Content marketing for the first time,  I just searched "What is Content Marketing."
Within seconds, several videos were in front of me. I chose a video by Neil Patel.
I saw the first one, then the second, and then kept on consuming it.
His way of explaining things kept me engaged, and I kind of enjoyed it. 
Later I subscribed to his channel, read his articles, and took his courses and tools in the future. 
Don't you think that's a typical journey of every consumer? Just think about any of your favorite influencers in your niche. You must have come across them not by searching for the product or service they sell, but because you wanted to learn something, and later you became their loyal follower because of their value.
Your future customer must be searching for something of your industry and niche to learn, understand and entertain. So go grab their attention, and help them with educational videos.
Educational videos are a great type of content at the Top of the funnel. They play a major role in moving visitors to the next stage of their buying journey.
Educational videos help to establish 
Trust 

Authority 

Credibility
These factors are essential to turn strangers into paying customers. By providing them the free content around their problems and pain points, your brand becomes a marketing leader and authority in your niche. 
Just think about it for a second.

Educational videos are a great marketing asset for every brand. They play an essential role in the Content marketing strategy of successful brands.
Here are the Top three types of Educational videos you can use –
How-to Videos 

Industry Update

Tutorial
2. Webinar
Webinars are incredible marketing video types and a great lead generation tool for brands. Even in a report by Demand Gen, 53% of marketers agreed that webinars are their go-to TOFU content format that generates the most high-quality leads.
The reason is simple; webinars allow your potential customers to interact in real-time with you. In addition, the possibility of QnA removes the brand's friction with potential customers.
Through a typical webinar format, an industry expert delivers high-value content to the potential customer. In the later part of the website, the listeners can interact in the Q&A session and ask their questions. 
To attract potential customers, brands run ad campaigns of free webinars on specific topics. Once a potential customer enrolls, the brand gets a full opportunity to showcase its value in the webinar and later sell the services or product to the potential customer.  
It is a great marketing and sales asset, especially for B2B brands. Webinars are widely used by coaches and trainers to generate leads.
3. Explainer Videos 
Have you seen those animated videos talking about a random problem that you skip on Youtube? 
Those are Explainer videos.
Just kidding.
Explainer videos form the backbone of video marketing. A typical explainer video talks about the problem your target customer is suffering and how your product or service can solve it. 
96% of customers watch an explainer video to learn more about a product or service.
It is an interesting way to engage with your target market by directly talking about their problems and solutions for them. Additionally, explainer videos are short but go a long way in video marketing for brands. Explainer videos are animated most of the time to keep the viewer engaged. 
In a typical buyer's journey, the potential customer came across such videos through social media ads. If you target the right audience, and the viewer is going through the problem you are talking about, you might get a new lead.
Middle of the Funnel (MOFU)
Good progress! 
Your potential customer has moved to the next stage of their buying journey. At this stage of the funnel, they have got a good idea of what you do and how you can help them. 
It's pretty clear to them that you have something they are looking for, but is your brand the right one? 
At this stage, the potential customers are more interested in knowing more about your brand, your values, how you help people, and the product. 
Furthermore, marketing videos that cater to their curiosity motivate them to the next stage of buyer's journey. 
Could you do this? I can promise, only if you stick with me. So are you ready? 
Let's dive in!
4. Product Video
Have you seen the videos on the product page of Amazon before buying it? It gives a rough idea about the Product video. 
Explainer videos are more of a story to catch your attention, and talk a lot about the problem, whereas Product videos talk more about the product.
As your customer has already moved to the next stage of the funnel, they want to learn the ins and out of the product you offer. How exactly it works, the value it delivers, its features, and ultimately, how the customer can use it. 
When asked how they'd most like to learn about a product or service, 69% said they'd prefer to watch a short video.

For product-based companies, Product videos are a must-have marketing asset. It helps to make it easier for customers to understand the complicated product, focusing more on the user end. 
5. Company Culture Videos – 
People are more interested in people instead of products. They do business with people, not with brands. 
Your potential customer is more interested to know your team, your work ethic, and why you do what you do. That's where Company culture videos come into the role. 
As per Social Media Today, brands that connect with their customers on a higher emotional level receive 3X more word-of-mouth marketing.
Company culture videos are not meant to sell your product. But to sell you as a brand. This serves two purposes, one is to Humanize your brand, and the other is to attract new talent.
Your future team is looking for brands that are passionate, ethical, and have a great working culture, company culture videos serve the purpose. 
84% of people say that they've been convinced to buy a product or service by watching a brand's video.
Here are the top 3 ideas for your Company Culture Videos-
Event Videos

Vlogs/Behind the scene

Company Story 
6. Video Documentaries 
It's a relatively new type of video format. Video Documentaries give an in-depth understanding and perspective around a particular topic, somewhat relevant to your industry.  
However, the format usually runs around a storyline and reveals some hard-hitting truths about the industry. Usually, it gives moral lessons around the industry.

Though it's a very fresh marketing idea, it's very effective. 
For example, Patagonia, a US-based clothing brand, has set up a brilliant example of Video documentaries. The message of their documentary was simple, "Don't buy more than you need. Celebrate the stuff you already own". 
A brilliant masterpiece that triggers the emotional aspect of the problem. Though the core message stands against their business interest, it promotes their purpose and brand ethic. Along with it, the quality and durability of their clothes.
Bottom of the Funnel (BOFU) 
Congratulations! Next stage Unlocked. 
Your potential customer has moved to the next and the last stage of their buyer's journey. You're just one step away from converting prospects into paying customers.  
The story so far – 
They know their problems

They know how you can help 

They have developed details of the product or service you offer. 
They are almost at the stage of making their final moves. You need more content to remove the friction and make them fall into the paying customer category. At this stage, the final transformation stories, or success stories, work brilliantly. Bring the already successful customers and their stories in front of them to win their final vote in your favor. 
But how will you do that? 
Don't worry; let's go through our final Video marketing content to win their vote of trust completely.
Let's dive in. 
7. Testimonial Videos
Testimonials are videos of your customers or your team endorsing your brand and product. They are the ones who have successfully seen results and benefited from your brand. 
You can use two types of testimonials –
Customer testimonials

Employee Testimonials
a) Customer Testimonial – It is the real-life case studies of real customers, their experiences and transformations. It is the most authentic form of building trust. That's why customer testimonial videos are considered to be the most powerful video marketing asset for every brand. Someone who is not related to your brand endorsing you encourages potential customers to be the next success story. 
Each customer testimonial targets a specific problem the customer was facing before using your product or services. It is about how their life has taken a turn for the better after using your product or services. Customer Testimonials make an instant emotional connection with the listeners and subconsciously build trust.
A customer Testimonial is different from a Customer story/Case study. While a customer testimonial is focused on the interview format, majorly asking questions and answers, a Customer story can be more of a story format. However, we will discuss it in detail later. 
b) Employee Testimonials – It is somewhat similar to what we discussed in the Company culture videos. 
Employee testimonials videos usually share the experience of your ex or current team individuals about their experience of working with your brand. It could be done in a Q&A format.

It plays a great role in building trust because the people who work with you know you the most. If they have a positive review of your company, people are going to love your brand.
8. Case Studies 
Case study videos are more detailed versions of CUstomer testimonials. It is basically a storyline, more like a documentary of the whole process. It features the problems, the discussions you have gone through, and the real and raw working footage while you were working on the project with the client. 
Anger, pain, frustrations, failures, and success it has all emotions. From day 1 when a particular client or customer approaches you, to the day when they start seeing the benefits or results. 
These types of videos work excellently in the services industry. An incredible marketing asset for any brand, as it's very inspiring and engaging for your potential customers.
9. Product Review videos
These are somewhat case study videos of product-based companies—real customers sharing their experience of using your product. 
In many cases, you can also collaborate with any popular creator in your niche and create review videos. It could be a very effective form of marketing asset. However, nothing can beat the power of real stories and real customers.
As the customer is in the final stage of their buying journey, they need a final review, and the product review video does this job. 
Congratulations! 
You got a new Customer if you have followed the process till now.
Using the above marketing assets in your marketing and sales process, you boost traffic, conversions, and engagements. 
Videos are essentially the most important marketing assets. Investing in them can bring a lot of business and a good ROI. According to Wyzowl, 87% of Video marketers agree that investing in Video marketing gives them a good ROI.
What are you waiting for? 
Go in the battleground and win more clients using videos as a marketing tool. All the best!